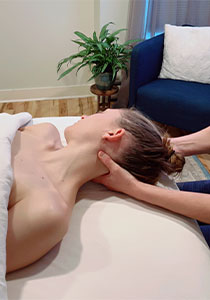 rejuvenate with a session tailored for you
Rejuvenate with a therapeutic massage tailored to fit your needs. I offer an eclectic approach that incorporates deep and light pressure work, hot stones and steamed towels. A massage session can help to improve circulation while aiding to release muscle tension and toxins that are held in the body. Using a combination of long, flowing massage strokes, stretching and deeper tissue work where needed will allow both your body and mind to unwind, relax and reduce your daily stress.
When appropriate, I use unique blends of therapeutic grade essential oils to help support in the detoxification process.
I will take the utmost care in working specifically with your unique concerns, making sure you feel supported and finding the best results for your overall well-being.